The Best Local Repair Shop for Sprinters and Land Rovers
---
Auto Repair Shop Golden CO
The best repair shop West of the Mississippi for your Sprinter or Land Rover. We're experts with the intricacies of these vehicles, knowing them better than most. Just because your vehicle has issues that others cannot figure out doesn't mean it can't run beautifully. It just needs a repair shop with the knowledge, skill and tenacity to understand it, which we have in spades at LinDen Automotive.
We have a special fondness and appreciation for these well-made vehicles. With more than 50 years of service experience, Dennis and his crew can get you in, get you taken care of and get you back on the road to enjoy your next journey.
Our name comes from a combination of our owners' names; Linda and Dennis. Also chosen because of the Linden Tree — a tree known for its strength and longevity, much like the vehicles we service. It's important to note we care about the environment at LinDen Automotive and work hard to bring together "green" and "diesel" whenever possible.
And how can you not care about the environment when you live in a place as majestic as Golden, CO? We're walking distance to a few restaurants and shops. If you live here or you're traveling through on the I-70 corridor, we're convenient to the expanded Denver area; Boulder, Colorado Springs, Fort Collins, Evergreen, Grand Junction, and many Mountain Town Resorts.
Whether you're a casual driver or hardcore enthusiast, we'll provide you with friendly service aimed at maximizing the performance and durability of your vehicle. We do our best to go the extra mile for customer satisfaction – from giving honest advice to fixing the unfixable.
We're open to serve you weekdays from 9:00am to 5:00pm (closed from 1-2:00pm for lunch). Bumper to bumper, we fix it all, no repair is too big or too small. Call at (720) 344-1877 with questions or to get on our schedule.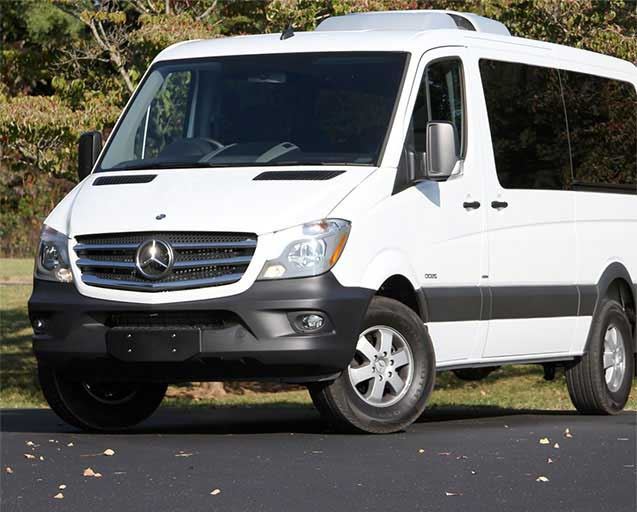 Sprinter Vans
In the Golden area, nobody wants to touch Sprinters. Nobody that is, except us! At LinDen Automotive, we love working on Sprinter vans, whether Mercedes-Benz, Dodge, Freightliner, or Volkswagen. These vehicles do present servicing challenges, but we have the experience, skill, and a general appreciation for Sprinter engineering that makes overcoming these challenges a very rewarding experience.
Land Rovers
Our owner has been called "The Land Rover Whisper" and for good reason. Our LinDen Automotive team believes Land Rover vehicles are best suited for our Colorado way of life so we own a few ourselves. We know their ins and outs and we know how to make them last.
Alex Reznikoff
2023-04-25
Family business that knows their stuff. Great customer service.
After many years of going from one problem to another, many caused by the repair facilities themselves, we had about given up on our 2005 Sprinter. My husband found LinDen on a Sprinter forum and we made an appointment to travel 800 miles to have the van looked at (it took 3 months to get an appt). Voila!!! 3 days later the van was fixed, all was explained to us in an understandable manner and we returned to Arizona in October of 2022 with a perfectly running van. Fast forward to April 2023 and all is still running perfectly. As an aside, our local Mercedes dealership gave up on our van and told us to just take it home after having it for 3 months and giving us a free rental car for that time period. Hmmmm. Highly recommend.
Darren Finnigan
2023-04-13
We took our sprinter in for a Service B and the team at Linden were great! It was much more affordable than a dealership and the staff was incredibly friendly and helpful. I will use them again!
If you need professionals who are able to diagnose your Mercedes Sprinter, this is the shop you would want to go to. I met Dennis, Devlin, Armando, and Scottie, and others (sorry I didn't get all the names) and they are all very professional and at the same time, very personable. This is truly a local family business. I felt welcome once I stepped out of my Sprinter. Oh, and Dennis conversed with me in Spanish. Eso lo disfruté mucho, gracias! They took the van for a test drive and diagnosed the problem in no time. That was quick. Technically, in kids words, the engine couldn't breath properly. It was a problem other shops weren't able to diagnose and that was happening for about 6 months. Dennis, Devlin and company are very knowledgeable about Sprinter vans. Thank you very much, guys! I'm so glad I found you!
Go to for Sprinters
The team at LinDen know all the details of servicing sprinter vans and take great care in being sure customers understand what has been done and why. They've not only done oil change service for us, but also trouble shooting of check engine codes, fixed the rear axle that was out of alignment from the factory, and advised us on what to do with different warranty and maintenance items. They are diligent and professional, plus personable.
Only shop I'd trust with my Land Rover or anything really
Extremely knowledgeable about LandRovers. Much better than Flatirons LandRover Dealership service center. I wish we found them sooner. Dennis helped guide us through issues we had with our LR4. Highly recommend!
Linden Automotive
Sprinter & Land Rover Pros
---
1237 Rogers St
Golden CO 80401
Business Hours
Monday – Friday : 9:00 – 5:00
Closed Daily from 1:00 – 2:00 PM for Lunch